SEPTEMBER...
...is my favorite month,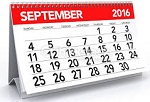 because my parents worked it so I'd have a birthday with a little bit of summer left before school, and now I still have the birthday (often with pineapple upside-down cake) but I don't have to go to school anymore. When I was a kid I'd think: when you're a grownup you don't have to go to school, and I could hardly imagine what that kind of freedom might feel like. And now it's an everyday thing: I get to have my birthday cake with a little bit of summer left every year, AND I don't have to go to school afterward. The kid inside me still has no problem summoning up this big gratitude for noschoolness. He loves being a grownup, and plans on remaining one for the rest of his life.

Much easier than being a kid, especially a kid at Our Lady Of The Valley Grammar School. And of course there's that beautiful and perfect song by Anderson/Weill: and the days dwindle down, to a precious few... Oh yeah, I do love September.
I've been working on a couple of CDs simultaneously, as grownups will, and neither of these are the songwriting CD I wrote about last entry. I had a girlfriend in college who used to say that I was "fickled". I tried to tell her it was not "fickled", but "fickle" but she never believed me, though if you look up "fickle" in your Webster's, there's my SPJC yearbook photo. After I wrote the last misleading entry an order poured in, from my friend Howard Grodman in Flagstaff, AZ, bless his trusting heart. But this summer I got distracted.
What distracted me was this CD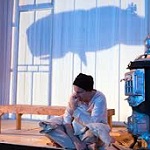 of fifteen songs from Moby Dick, which I'm almost finished with. The lyrics are all culled from Mr. Melville, who's pretty good, and I'm really proud of this one. (I'll send it to Howard first, if you don't mind.) The other CD I'm working on is with some legit musicians of the first order, settings of texts I've found from John Steinbeck, Bertholdt Brecht, Anne Carson, Edgar Lee Masters and some other literary folks.
Then, I promise, the songwriting CD.


Which will be really felicitous timing, because in October my friend Paul Zollo is coming out with a sequel to his famous and best-selling Songwriters on Songwriting, a sequel in which I am the only songwriter I've never heard of. It's been a while since our interview, and so I can't wait to see what I have to say.
Love to you all, and especially to my dear brother Peter Matthew Smith.
Songs. Done. Write.
Michael Smith's Songwriting Workshops
For the Adventurous Mind
Michael Smith, the internationally celebrated songwriter and performer now offers Songwriting Workshops in addition to - and in conjunction with - musical concerts. More info...
See Songwriting Workshop flyer on media page.
---
---
"AND THE POET SANG" - Poems as Lyrics
New Program from Michael Smith and Jamie O'Reilly!
Debuted at The Poetry Foundation More info...