May 2015:
THAT'S ALL RIGHT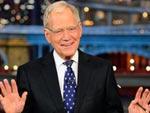 I had a great time watching Bob Dylan on Letterman's penultimate show, singing "The Night We Called It A Day". Wherever he goes, he gets there way before I do, so I'm always, reliably, totally at sea while I hear him, which is always so fun. He keeps it happening for me.
Saw a TV show he'd done fifty years ago in Canada, they'd put him on a set with some actors in plaid shirts who were supposed to be lumberjacks, sitting around eating, drinking, playing cards in the bunkhouse, and he wandered among them playing his early songs, from the "Don't Think Twice" era. Would have been distracted if I'd seen it then, the singing and writing being so wide of my small experience, but seeing it later in life I saw that his finger-picking was absolutely precise and that he never muffed one note on the guitar, that he always sang perfectly in tune, and that clearly he had rehearsed everything way beyond the point of reasonableness, I mean he could do all this while casually walking around.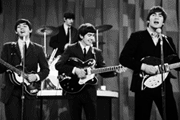 Like seeing Lennon, McCartney, Harrison and Starr on Ed Sullivan, every one totally together, presenting himself happily and cheerfully perfect, really.
Though I'd love to think that someday I could be as completely assured in the way I present whatever the hell it is I do, I believe I am way running out of time to accomplish this; but gotta say, in all honesty, really, that the pursuit of getting it right is a joy and a privilege in itself, and since only some of us get it right when we're twenty-one, it's great that the rest of us have some joyful templates from the guys who catch the ring:

Man, you can spend years contemplating just those singular musical events, listening over and over. And each time you go back each one is better than you remembered it, and you see more coolness each time, and more jungle paths each has machete-ed to coolness. When I got tired of The Kingston Trio (I did once), man, I was tired of music.
Right now I'm privileged to be continuing to work on "Snow Queen". And listening to a lot of Bing Crosby. Thank God for YouTube.
Oh yeah, one more thing: I just found out that Oscar Hammerstein II got the line "Tired of livin' and scared of dyin'" from Saint Augustine.
The guy, not the town.
Songs. Done. Write.
Michael Smith's Songwriting Workshops
For the Adventurous Mind
Michael Smith, the internationally celebrated songwriter and performer now offers Songwriting Workshops in addition to - and in conjunction with - musical concerts. More info...
See Songwriting Workshop flyer on media page.
---
---
"AND THE POET SANG" - Poems as Lyrics
New Program from Michael Smith and Jamie O'Reilly!
Debuted at The Poetry Foundation More info...