In November a lovely drive to Harbor Springs, Michigan, to do some kibitzing at Lamb's Retreat, where I have often been, me and John Lamb careening 'round midnight down leaf-strewn roads, taking potshots at mailboxes (just wanted to see if you were paying attention).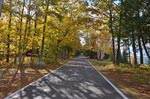 A beautiful countryside at this time of year. What they do at Lamb's Retreat is focus on songwriting for four days, interpersed with some eating, drinking, walking and conversation. I love Lamb's and it is always a challenge, and I always come away with a little voice in my head saying time's a-wastin', you need to work harder. I think the voice belongs to the Granny character on Beverly Hillbillies, or else Marjorie Main.
But my favorite voice of all time is Julie London. Once I listened to Julie London I totally forgot about having to be Catholic. Speaking of songs...
Oct 2014:


Dig it:
"At five o'clock the streets are dark
Across the empty bandstand in the park
And then I miss you most
Miss you with the ache of long-lost things
Of sunburnt arms and garden swings...
November Twilight, must you stay?"
(I loved that lyric when I was fifteen, still do. Julie London sang it on her album "Calendar Girl".)
I'm very happy to say that Anne Hills has recorded one of my songs, "The Ballad Of Dan Moody (Roving Cowboy)", for her new "Tracks" recording of songs concerning trains. This tune has been done well by various folks but I have to say Anne gives it a reading that makes it really seem like it was written circa 1924. Close as this songwriter hazards he will ever get to the Carter Family. Anne certainly can summon a plain and down home style that works very well with that song, and it is lovely to hear the voice that sang "Johnson" and sings "Pinto Pony" get into "Dan Moody". I feel with this tune like I've done something that partakes a little of a Tom Paxton mood. Tom, as you may know well, can write songs that don't sound like they've ever been formally "written", but were always kinda just there.
The gentleman playing guitar on Anne's recording takes care of business, too. I'm still trying to figure out how he does what he does and am nervous to ask him to write it down. But now I have the recording until my computer conks out. Anne's talent and accomplishment, industry and positivity are legend and I am fortunate that she is willing to sing my songs. Especially "Dan Moody". For you aspiring songwriters, a professional clue: I have accomplished all this with blackmail. Heh Heh Heh.
Am traveling to Linden Tree in Mass and then with Anne Hills to Houston and points south in November; doing some gigs together. Houston is a lovely venue: Selia Qynn's Sanctuary. (Sanctuary Mulch! You're welcome!)

Meanwhile in Chicago this month I am doing a show about Death with Jamie O'Reilly. As pretty much all my songs have Death as a big feature, this was an easy, too damn easy, gig to furnish with tunes. I'll never forget some British reviewer who opined about my first recording, "This is not a guy you want to invite to your party..." I think it was "Demon Lover" that scared him. I hope it scared him. And he'd better still be scared, if he knows what's good for him.
Also doing some things with Blair Thomas, (yes, the Blair Thomas, super puppet guy, google him) and we're in Storrs, Conn. soon, and in Detroit, too, doing Oscar Wilde's "Selfish Giant" (my songs). I used to live in Detroit and I love the people there. Well, some of them. Well, actually this one person, and to quote a line Jim Post exuberantly extemporized years ago in my song "One Blessed Hour": "YOU know who YOU are!"
And now, as they say in Detroit when things have gotten really emotional: OK, bye.

PS: I have a new song about Joaquin Murietta, famed, prolly apochryphal Old California bandit guy. Song might turn out to be decent. Fun to sing and play, which is a good sign. We'll see.
(I stole the chord progression from Dave Rudolf. Should I tell him?)
Really now: OK bye.
Songs. Done. Write.
Michael Smith's Songwriting Workshops
For the Adventurous Mind
Michael Smith, the internationally celebrated songwriter and performer now offers Songwriting Workshops in addition to - and in conjunction with - musical concerts. More info...
See Songwriting Workshop flyer on media page.
---
---
"AND THE POET SANG" - Poems as Lyrics
New Program from Michael Smith and Jamie O'Reilly!
Debuted at The Poetry Foundation More info...